Updated regulations released for new build commercial buildings
The government has now published its updated Building Regulations for England which includes amendments to Approved Documents – Part L (Conservation of fuel and power) for non-dwellings.
What are Building Regulations?
Building Regulations establish a set of technical standards for the design and construction of buildings. If you're building something new, or making big changes to an existing building, it is likely that you will need to comply with Building Regulations.
What does this mean?
Individuals responsible and involved with new build construction of non-dwellings, will have some time until they will need to comply with these new regulations, which will be enforced from 15th June 2022. This means that any Building Regulation applications received after this date will need to adhere to the new regulations published today.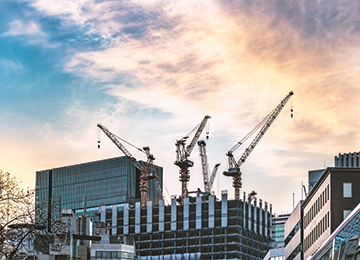 What has changed?
This update to regulations provides an intermediate uplift to existing energy efficiency standards. It is a stepping stone towards the government's new Future Buildings Standard (due to be introduced in 2025) which aims to future proof new buildings with low-carbon heating systems and "world leading levels" of energy efficiency.
Following a review of the newly released Approved Documents, Elmhurst has listed some of the key changes that may be of interest to industry:
 New Buildings
Uplift to energy efficiency standards – 27% reduction in carbon emissions (compared to Part L 2013) delivered predominantly through carbon saving technology and fabric improvements.
Now required to meet three performance metrics:

primary energy target,
CO2 emissions target and,
Minimum standards for fabric and fixed building services

The following minimum standards will be required for thermal elements in Part L Volume 2, 2021:
| | |
| --- | --- |
| External walls | 0.26 w/m2k |
| Floors | 0.18 w/m2k |
| Roof (Pitched) | 0.16 w/m2k |
| Roof (Flat) | 0.18 w/m2k |
| Windows in buildings similar to dwellings | 1.6 w/m2k or Window Energy Rating band B |
| All other windows, roof windows, curtain walling | 1.6 w/m2k |
| Rooflights | 2.2 w/m2k |
| Pedestrian doors | 1.6 w/m2k |
| Vehicle access and similar large doors | 1.3 w/m2k |
| High-usage entrance doors | 3.0 w/m2k |
| Roof ventilator (inc. smoke vents) | 3.0 w/m2k |
| Air permeability | 8.0 m3/ h.m2 @ 50Pa |
Minimum lighting average luminaire efficacy of 95 Lm/cW
Notional building to include PV making compliance harder to achieve.
New classification of high and low hot water demand activities to determine the specifications for the Notional building's water heating system
On-site electricity generation by PV in the Notional building
A new set of fuel emission factors and primary energy factors for buildings other than dwellings is provided in this document, including monthly factors for electricity.
We expect that the increase in standards for 2021 and 2022 will drive developers to phase out fossil-fuels now, ahead of 2025. It is anticipated that heat pumps will be utilised for space heating and hot water, as well as heat networks, district heating, and even direct electric heating.
Non-Domestic Team Leader Steve Windmill commented; "We are very pleased that after almost 8 years since the last change to Building Regulations for non-domestic buildings, we have a new version of Part L. As expected these changes will be enforced from June 2022 giving the industry six months to prepare for the new standards. In the mean time we will be running an extensive range of training courses to cover all of the changes, with our first course to be ran in February, you can now book your place on a course using the link below. We expect other regions of the UK to publish their own new versions of Building Regulations in early 2022."
---
You can take a look at the full Building Regulations Documents here: https://www.gov.uk/government/consultations/the-future-buildings-standard
Approved Document L Volume 2: Buildings other than dwellings: https://assets.publishing.service.gov.uk/government/uploads/system/uploads/attachment_data/file/1040936/ADL2.pdf
Approved Document F Volume 2: Buildings other than dwellings:
https://assets.publishing.service.gov.uk/government/uploads/system/uploads/attachment_data/file/1040933/ADF2.pdf