With Elmhurst's Air Conditioning Inspection Training you will gain the necessary skills, practical experience and qualifications to undertake on site inspections of commercial air conditioning units.
✅ Deliver legally valid air conditioning inspections and reports
✅ Supplement your existing commercial and/or public building energy assessments
✅ Work for yourself – control your work/life balance
✅ Seek employment opportunities with existing energy assessment firms and other organisations
ABBE Air Conditioning Inspection Training (Level 3 & 4)
Elmhurst's intensive ABBE qualification course is designed to equip Non-Domestic Energy Professionals with the skills and knowledge to become fully qualified Air Conditioning Inspectors in just 6 days. This course is delivered online by our expert trainers, and provides the ABBE Level 4 Diploma in Air Conditioning Energy Assessment.
Only £1995 + Reg Fee + VAT
GO TO COURSE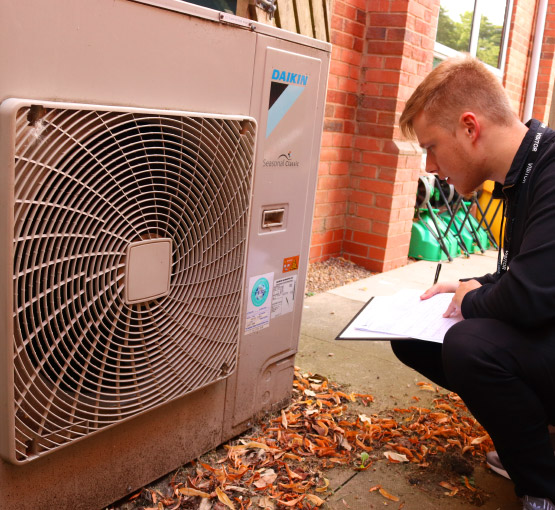 APEL Air Conditioning Inspection Training (Level 4)
Elmhurst's fast-tracked APEL Air Conditioning Inspection course is available for individuals who have been working within the Non Domestic sector and have at least 2 of the last five years relevant experience and knowledge.
Only £995 + VAT
GO TO COURSE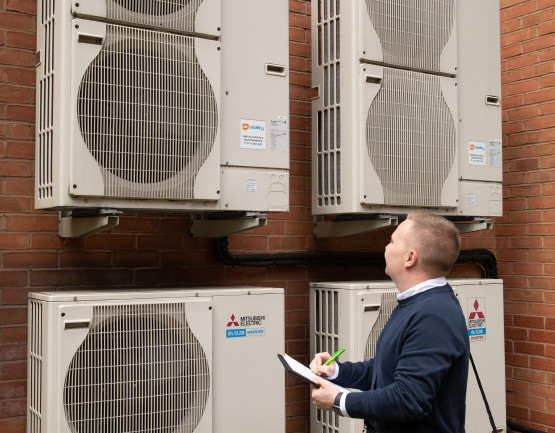 What do Air Conditioning Inspectors do?
An Air Conditioning Energy Assessor/Inspector is qualified to undertake a visual assessment of air conditioning systems, as well as the equipment and controls associated with it. Air conditioning systems with an effective rated output more than 12kW will require an assessment every 5 years with penalties given to those who fail to have an inspection within this timeframe.
The aim of any air conditioning assessment will always be to improve efficiency, and reduce energy consumption, operating costs and carbon emissions.
In order to achieve this an Air Conditioning Inspector will assess the following:
refrigeration equipment (and associated heat exchange systems)
air moving systems
system controls
documentation (typically provided before an assessment)
evidence of maintenance
Following the assessment, an air conditioning inspection report will be provided to the 'System owner'. This will cover the current efficiency of the air conditioning system, recommendations for improvements and suggested actions, as well as advice  on how to reduce air conditioning use.
Those who are already involved in areas of building/energy assessment may find it easier to step into this particular role due to their existing competence.
However, courses are available for new entrants, and all you will really need is a keen interest in buildings and energy efficiency to keep you engaged in the role.
The standard equipment which an Air Conditioning Inspector would need in order to carry out an assessment, includes:
Ladder
Camera/ camera phone
Writing apparatus (clipboard and pen/ pencil)
Infrared thermometer
Measuring equipment (laser measure or tape measure at the least)
PPE – this could include a high visibility jacket, hardhat, safety boots and also a harness if potentially working at heights/ on top of roofs
Desktop/online software, such as Air Con Online will also be needed in order to create your Air Conditioning Inspection Reports and Certificates.
Air Conditioning Inspectors will need to visit properties in person, in order to properly assess them and collect the relevant information required.
In certain circumstances, data gatherers can be used to complete the assessment, but the Air Conditioning Inspector must supervise how the data is collected and will need to verify it. Therefore you would still be required to visit the site at the very least to oversee the collection of data by a contracted third party.
The person who controls the operation of an air conditioning system must ensure that their systems are assessed every 5 years.
The system will not always be controlled by the same person; it could be the building owner, the occupier, or in some cases a facilities management or servicing company.
In any case, the person who controls the operation of the system will be seeking the services of an Air Conditioning Inspector.
When attending a course or looking into the Air Conditioning Inspector role you will see plenty of references to TM44.
Put simply, TM44 is the industry accepted guidance for assessing the efficiency of air-conditioning units to ensure compliance with the Energy Performance of Buildings Directive (EPBD).
The air conditioning assessment can often be referred to as a TM44 inspection.
Those with relevant experience in the non-domestic sector can complete the APEL Level 4 training, which will take 2 days to complete. Following this training and signed off assessments, an individual will be considered fully qualified as an Air Conditioning Inspector.
Those who undertake the new entrant training route will need to complete 3 days of training as well as a portfolio in order to qualify as an Air Conditioning Inspector.
Those qualified will need to join a government approved ACI certification scheme air conditioning accreditation scheme (such as Elmhurst's) or ACI certification scheme in order to issue legally valid air conditioning inspection reports.
Elmhurst's Air Conditioning Inspection scheme is free to join for those who have received the relevant training/qualification.
Why choose Elmhurst for Air Conditioning Inspection Training?
Quality lies at the heart of what we do, and it all starts with the training that we offer. We strive to equip individuals with the skills and knowledge required to deliver quality air conditioning assessments. Since 1993 we have trained thousands of individuals and have evolved our courses to reflect the changing landscape of training delivery and energy assessment.
✔️ Leave feeling confident– leave feeling confident that you can put theory into practice
✔️ Learn at your own pace– our courses cater for those completely new and familiar with energy assessment
✔️ An engaging learning experience– Our trainers have the practical experience and know how to deliver a truly engaging learning experience
✔️ Support beyond the training– As the UK's largest government approved energy assessor scheme, we can provide technical support to you, not only during your training, but also long after you've completed it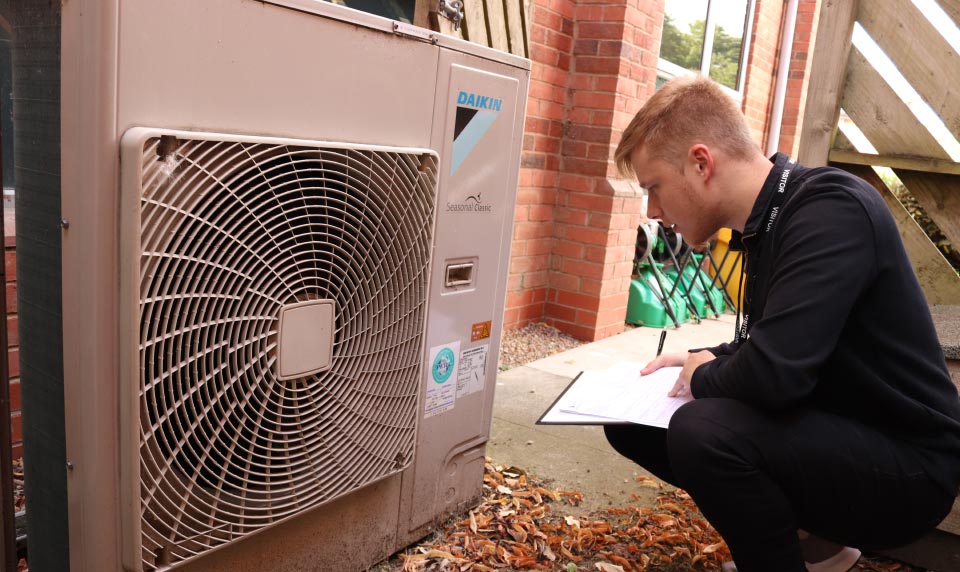 Become a Member with Elmhurst
Once qualified as an Air Conditioning Inspector you will be eligible to join Elmhurst's industry leading accreditation scheme, free of charge.
If you are looking for a scheme which offers competitive lodgement fees, market leading software, professional technical support, opportunities to enhance your skills, as well as the tools to build a competitive business, then Elmhurst Energy is the accreditation scheme for you.
FIND OUT MORE >