Simplify your retrofit projects with Improvement Evaluator. As a TrustMark Approved Retrofit Coordinator with Elmhurst, you can now model improvement measures for risk paths B and C with ease.
This accessible online tool, available in Access Elmhurst, eliminates the manual process and saves you time by generating a complete Improvement Option Evaluation Report.
✅ Streamline the process of modelling improvement measures
✅ Remove the hassle of using additional RdSAP or SAP software
✅ Select measures and create scenarios with ease.
✅ Model individual and grouped measures
✅ Generate a complete Improvement Option Evaluation Report
Software Fee
£5 + VAT*
*This charge will be applied after you have confirmed the selection of an assessment or imported an XML file.
The Improvement Option Evaluation Report
Get all the information you need for your retrofit plan with the report from Improvement Evaluator. The report provides a clear and concise tabulation of the capital cost, simple payback, and carbon cost effectiveness of both individual and grouped improvement measures.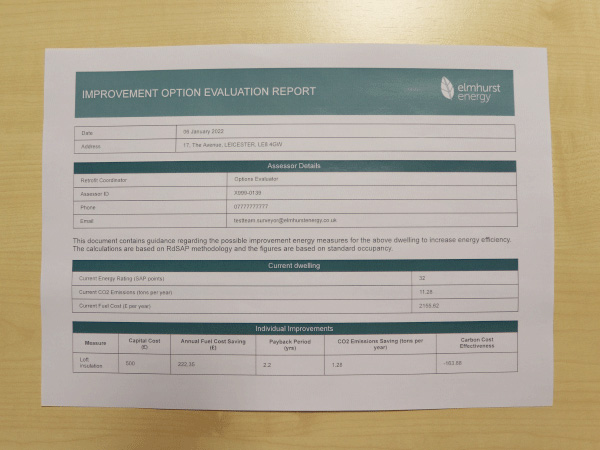 When should you use Improvement Evaluator?
Elmhurst's Improvement Evaluator is ideal when it comes to modelling measures recommended by the Energy Performance Certificate (EPC)/ Energy Report, as well as alternative measures where the increase in energy rating is small (this can include measures such as air and ground source heat pumps).
For some projects, you may need to use Design SAP
Working through a complex 'Deep' retrofit project? need to select from all available improvement measures? Elmhurst recommends using Design SAP.
CHECK OUT DESIGN SAP