What is an EPC?
An Energy Performance Certificate (EPC) is a legally valid document which provides an energy efficiency rating (displayed on an A-G scale) in relation to a property's running costs. This rating will take into account the potential energy performance of the property itself (the fabric) and its services (heating, lighting, hot water etc).
In addition to this, the EPC document will also show:
✅ a breakdown of a property's energy performance
✅ its environmental impact
✅ recommendations for improvements
✅ estimated energy use alongside potential savings
Not all properties are used in the same way. The energy efficiency rating uses 'standard occupancy' assumptions (typically 2 adults and 2 children) which may be very different from the way in which occupiers actually use things like heating and lighting within their property.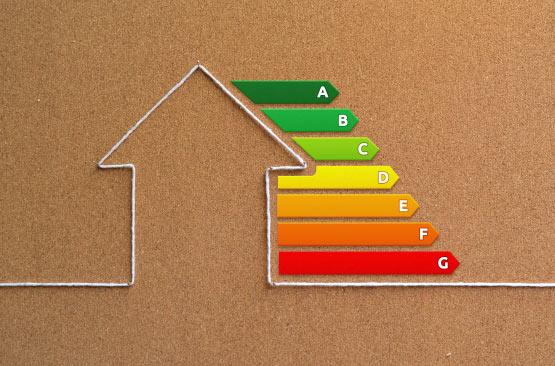 When do I need an EPC?
An EPC is required in the UK whenever a property is marketed for sale or rent or is newly built. The EPC is valid for 10 years or until a newer EPC is produced for the same property. It is recommended that a property's EPC should be made available to potential buyers as soon as it is marketed for sale or rent.
How to read an EPC
What you see on an EPC will differ depending on where you are in the country and whether it is an existing or new build property. EPCs in England, Wales and Northern Ireland are fully displayed online, where as, EPCs in Scotland are distributed as PDFs.
One thing that all EPCs will display first is basic information about the property, such as the address, property type and floor area. Towards the end or back of the EPC will be the Assessors full details including their name, contact info and scheme they are accredited with. If you have any queries about the content of the EPC we would strongly recommend that you contact them directly in the first instance.
The energy efficiency rating will be displayed on an A to G scale. The least efficient buildings will be rated G and the most efficient will be rated A.
As well as a current rating for the property, a potential rating will also be shown, which is the energy efficiency rating after all recommendations have been applied to the property.
For England, Wales and Northern Ireland the current EPC rating will be shown at the top of the EPC.
The rating is actually based on cost factors such as the type of fuel used for heating, hot water, lighting and ventilation.
Currently if the property uses main gas it will score higher on the energy efficiency rating than a property which uses electricity. This is due to mains gas being cheaper per p/kWh than electricity.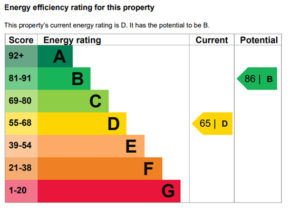 The EPC will breakdown each building feature/element (Walls, Windows, Hot water) in terms of its energy performance, it does not consider the actual working condition of the feature.
In England, Wales and Northern Ireland, the scale moves from very good (most efficient) to very poor (least efficient), and is calculated from the energy efficiency cost rating and the environment (CO2) rating.
In Scotland however, each feature is scored out of 5 stars for its energy performance and environmental impact.
No rating is given for floors and secondary heating systems. Different descriptions will also be given for new build properties.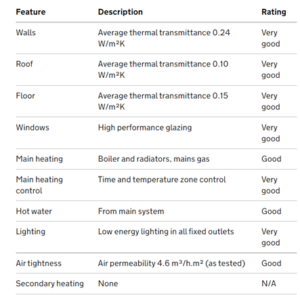 As with the energy efficiency rating, the environmental impact of the property is shown as an A to G rating.
This is once again based on assumptions about average occupancy and energy use. They may not reflect how energy is consumed by the people living in the property.
You can also draw comparisons with other households here and see the property's potential production of CO2 following recommendations (this is shown as a rating for Scotland)
You will be provided with a list of recommendations/recommended measures for improving the property's energy performance.
The indicative cost (Scotland) or typical installation cost is based on average installation prices so may not be representative of the actual cost in your area.
The recommendations provided are cumulative meaning that they should be installed in the order they appear on the EPC to achieve the potential energy efficiency rating. Should you choose not to follow the order they appear in, the potential energy efficiency rating may change.
Scotland's EPC will also show how recommendations will impact the environment rating after improvement.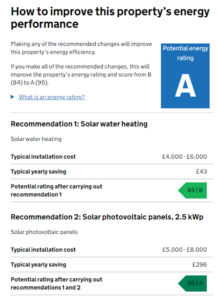 The estimated energy cost for the property shows how much the average household would spend in this property for heating, lighting and hot water. It is not based on how energy is used by the people living at the property.
Once again the potential saving is based on recommended measures being implemented.
Scotland Domestic EPCs will show the average and potential cost for heating, lighting and hot water over a 3 year period rather than yearly.
Also linked to this section is the heating use (or heat demand) in the property which shows the estimated energy use in kWh (Kilowatt hours) per year.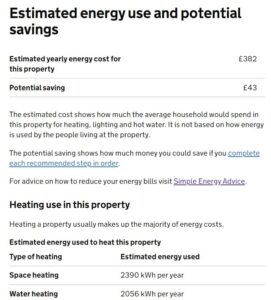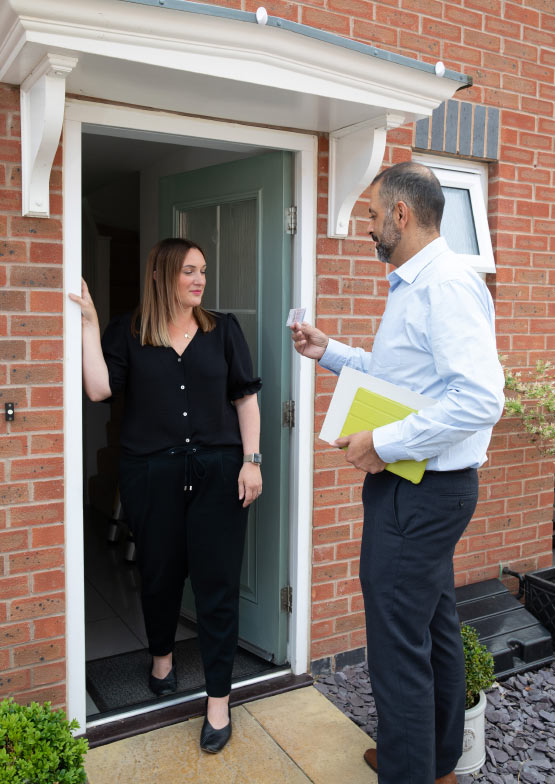 What to expect from a domestic energy assessment?
For existing flats, bungalows and houses in need of an EPC, you will need to acquire the services of an accredited Domestic Energy Assessor (DEA). These professionals will visit your property to collect property data/information such as room dimensions, insulation levels, heating systems and amount of glazing.
The assessor will need access to all rooms, including the loft as they will need to take measurements and photos to support their assessment. Homeowners will be pleased to know that the domestic energy assessment is non invasive, with no drilling or hammering into walls. Depending on the size or complexity of the property a typical assessment can take between 30 mins and 2 hours to complete.
EPCs in Scotland will typically be printed and provided to you, however for the rest of the UK the EPC will be provided via an online link.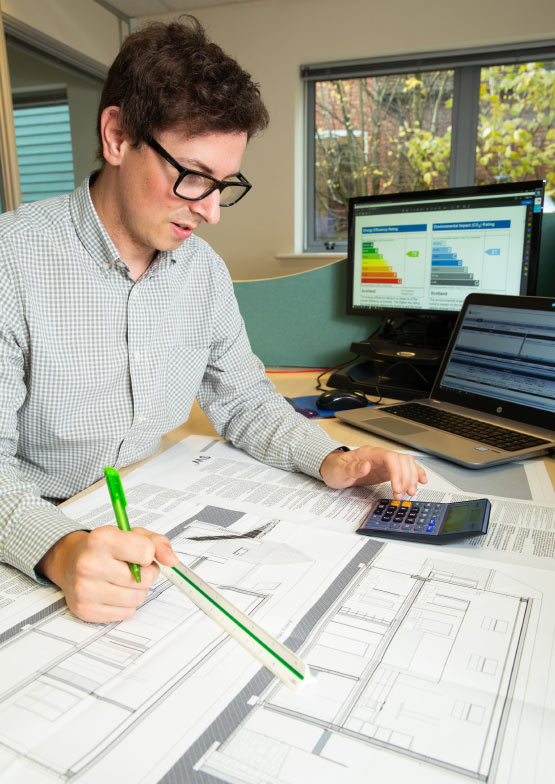 What to expect from a new build energy assessment?
For new build flats, bungalows and houses in need of an EPC, you will need to acquire the services of an accredited On Construction Domestic Energy Assessor (OCDEA). These professionals will undertake a desk-based assessment of your property, using building plans and elevation drawings.
New build energy assessments are required both before and after construction, with calculations and EPCs sent to Building control for sign off. Regional building regulations will establish a target that your dwelling must meet in order to achieve sign off.
A New Build EPC or SAP (Standard Assessment Procedure) EPC, scores the energy efficiency of a property and provides an indication of the projected energy costs after construction of a residential property. A new build EPC can be produced when designing a new residential building (predicted EPC) however, it is typically produced after a property has been constructed as a result of an As-Built SAP Calculation.