Elmhurst's Improvement Evaluator Software is the ultimate energy consultancy tool for any Elmhurst accredited Domestic Energy Assessor (DEA) who wants to enhance their assessment service and provide expert advice and flexibility on energy efficiency improvements.
✅ Enhance your energy assessment service
✅ Support landlords in meeting MEES regulations
✅ Model and select energy efficiency improvement measures and scenarios
✅ Complete flexibility when entering costs for recommendations
✅ Generate a professional report for clients – fully insured and Elmhurst quality assured
✅ Elevate your expert energy assessment advice
How can I access Improvement Evaluator?
If you are an Elmhurst accredited DEA you will be given automatic access to Improvement Evaluator via the member's area (Access Elmhurst). The software will be available to use within the Energy Advice tile.
Not currently an Elmhurst member? Join the Elmhurst accreditation scheme today and unlock a wealth of benefits. By making the switch, you'll gain access to our exclusive Improvement Evaluator tool, alongside industry-leading software, comprehensive support, and expert guidance.
SWITCH TODAY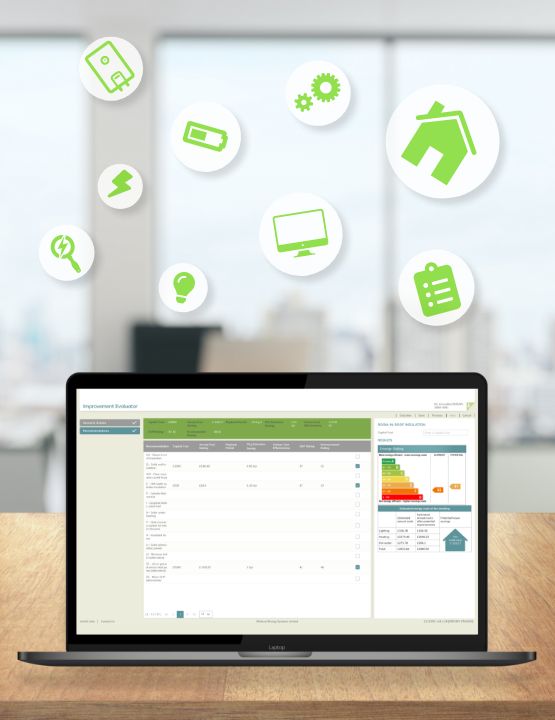 Why use Improvement Evaluator for DEAs?
This tool goes beyond Energy Reports, allowing Elmhurst accredited DEAs to model a range of recommendations (including less common options like heat pumps) across multiple scenarios.
By doing so, assessors and homeowners can see the real-time impact on important metrics such as energy rating, environmental rating, CO2 emissions savings, and annual fuel savings. This empowers homeowners to make informed decisions about improving their home's energy efficiency.
Moreover, this tool enables DEAs to provide tailored advice to clients on how to achieve a specific energy rating in a cost-efficient and practical manner. This is especially crucial now, with rising costs and increasingly stringent MEES regulations for domestic landlords. By combining different recommendations in various ways, DEAs can offer a personalised service to their clients.
Software Fee
£5 + VAT*
*This charge will be applied after you have confirmed the selection of an energy assessment.
Generate an Improvement Evaluator Report
Demonstrate different approaches and scenarios to your clients with the professional Improvement Evaluator Report. This fully insured report provides a clear view of each scenario you have modelled, allowing clients to see the impact of each measure with regards to annual fuel cost saving, CO2 emissions saving, energy rating, and installation costs.
VIEW EXAMPLE REPORT