Elmhurst Regional Scotland Conference Shines Spotlight on EPC Reform, Retrofit in Practice, and Building Standards
Elmhurst Energy recently hosted its Scottish Conference at the Edinburgh International Conference Centre (EICC). Top of the agenda on Tuesday 6 June was EPC reform, RdSAP 10, and Scottish Building Standards, plus other energy efficiency hot topics and lively audience discussion.
Guest speakers introduced by Elmhurst's Scotland and Northern Ireland Manager Alistair Galloway included:
Patrick Mason, Scottish Government
Daniel Foulds, Scottish Government
Professor David Glew, Leeds Beckett University
Ross Armstrong, Warmworks
Luke Smith, Build Test Solutions
Speaking at the event, Stuart Fairlie, Elmhurst Energy Managing Director, said: "Our members in Scotland are instrumental in delivering more energy efficient buildings across the country and are also playing a vital role in reaching carbon net zero. Today's conference has illustrated why there has never been a more exciting time to be an energy efficiency professional."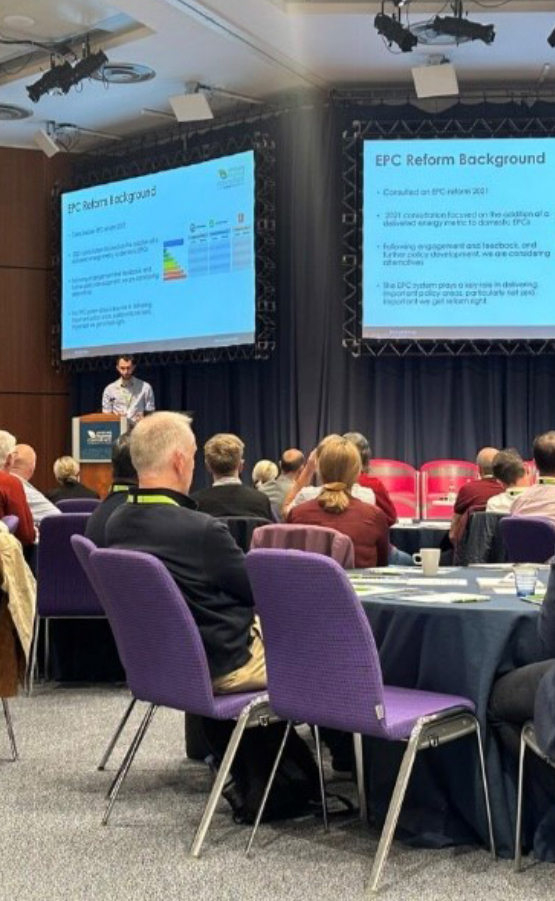 EPCs in Scotland
The first session from Patrick Mason, head of heat in buildings assessment at the Scottish Government, addressed EPC reform in the context of future energy efficiency in Scotland and confirmed a consultation was due to go live this summer.
Dwellings currently account for 13 per cent of Scotland's total greenhouse gas emissions and 30 per cent of Scotland's total energy consumption.
Scotland has ambitious net zero targets to meet, including a 68 per cent reduction in emissions from buildings by 2030.
Patrick Mason explained: "EPCs are really important because they're one of the few pieces of information people see detailing the energy efficiency of their building and there's significant infrastructure built up behind them. However, there is a clear need for their reform to ensure they are a useful tool to deliver net zero policies."
As part of EPC reform, Mr Mason added that it was critical the right metrics were used, based on the right data, and with information displayed in a way that was accessible and understandable for users.
Scottish and UK governments are working together to ensure any future changes to SAP methodology, which EPCs are based on, are right for the future.
Changes and updates to RdSAP 10
Damien Roberts, existing dwellings manager at Elmhurst introduced RdSAP and the expected changes to version 10. As it stands there are currently no confirmed changes to RdSAP 10, however, updates are expected later in the year. Updated fuel prices are expected as part of the changes, with a plan to renew figures more regularly than the current six months, to increase EPC accuracy.
Other expected RdSAP changes include the following adjustments and additions:
Solid wall U-values based on wall thickness – currently only used for stone walls
The option for a room in the roof
For window measurement, the terms 'typical' and 'more than typical' are likely to be removed and replaced with measurements
Selection of permanently fixed shutters
Mechanical ventilation
Pressure test results
Heat pump recommendations.
Section 6 Scottish Building Regulations
On 1 February 2023, Section 6 of The building (Scotland) Amendment Regulations 2022 came into force. Daniel Foulds, building standards energy policy technical lead at Scottish Government gave an overview on what this means for energy performance, overheating and ventilation in residential and commercial buildings.
Changes to energy standards for new buildings are supported by adopting new tools: SAP 10.2 and SBEM v6.1, and include:
Introduction of a Delivered Energy compliance metric alongside the existing carbon emissions standard.
Adaption of the SAP 10 methodology
Overheating risk is now addressed in standard 3.28 and is no longer assessed in SAP assessment
A full summary of the changes can be found in the Scottish building standards technical handbook 2022.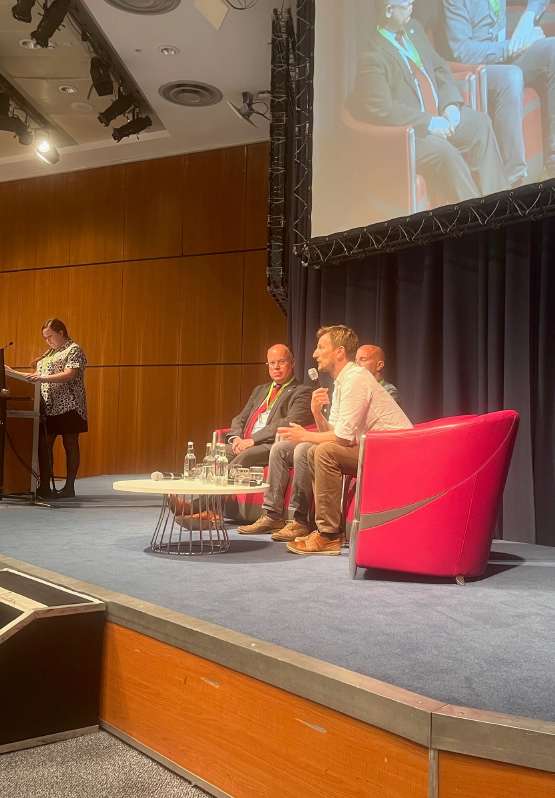 Retrofit in practice
Professor David Glew, Leeds Sustainability Institute (LSI) at Leeds Beckett University presented the findings from the DEEP (demonstration energy efficiency potential) retrofit project.
DEEP aimed to work out how much energy was saved when retrofitting homes, producing significant top-line findings that solid wall insulation is essential, EPCs can be improved, retrofit can reduce overheating, and a whole-house approach is lower risk than piecemeal retrofit.
Ross Armstrong, Warmworks chief executive, presented on large-scale retrofit and emphasised the role of Government in increasing delivery. He highlighted the importance of using a 'better not best' approach to create the right environment for supply chain to succeed, and called on industry to retain the principle that no two homes, families or communities are the same – one size will not fit all.
Luke Smith, managing director at Build Test Solutions spoke on measured energy performance and also took part in a lively retrofit Q&A.
Elmhurst Energy Managing Director, Stuart Fairlie and Stroma Certification Managing Director, Andy Parkin, closed the day, updating members on the Elmhurst Energy and Stroma merger. Together they explained that phase one and two (OCDEA and NDEA) of the phased transitions have been completed. Phase three (DEA and retrofit) starts on 1 August and should be complete by 30 September 2023. Phase four includes other schemes such as Code, Legionella, and BIM should be phased towards the end of the year, but timings depend on the particular needs.
Andrew Parkin, said: "The work done so far by both Elmhurst and Stroma to make this a smooth transition has been fantastic and I want to thank everyone for their efforts to put members at the heart of what we are doing here."
Elmhurst's Scotland Conference sponsors included IES, ECO Surv, Airex, and Build Test Solutions.