Heat and Buildings Strategy welcomed, but questions remain
The publication of the Heat and Buildings Strategy last week was a relief. Already delayed by eight months, recent briefings had suggested major arguments within government about how far a Tory administration looking to deal with the economic fall-out from Covid-19 and Brexit should go to implement its ambitious green agenda.
Many wondered if we'd ever see the strategy. Thankfully, the imminent COP26 summit appeared to help concentrate minds and we ended up with a document which establishes a wide-ranging set of policies and commitments aimed at decarbonising our buildings and laying the foundations for Net Zero buildings in the UK by 2050. And it is a 'foundations' type strategy, mostly nudging forward existing programmes in energy efficiency and clean heat, but with nothing that could be called radical. "No one will be forced to remove their existing boilers", the Minister reassured readers, while announcing the main headline initiative: a new Boiler Upgrade Scheme with £5k grants to help homeowners towards the cost of buying heat pumps.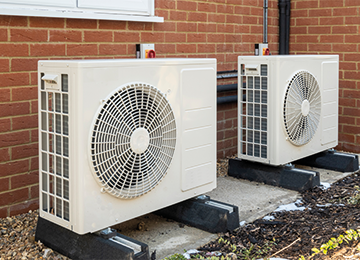 Unfortunately, even a quick bit of maths shows us that the money for heat pumps is not going to go that far. At £5K a pop, the £450 million allocated for three years in the Boiler Upgrade Scheme will likely cover a maximum of 90,000 heat pumps (30,000 a year) – just 5% of the official target of 600,000 a year by 2028.
At this moment in time low income and fuel poor homes are unlikely to benefit from this grant, due to the fact that the grant will not cover the full cost of a heat pump (currently estimated to be between £7,000 and £14,000). However, the government is committed to working with industry to reduce the cost of heat pumps by up to 50% by 2025, and is also keen to grow their appeal through its £60 million 'Heat Pump Ready Programme' expected to launch in winter 2021.
Towards the back of the Heat and Buildings Strategy was another interesting admission. The majority of our homes are low performing properties with an Energy Performance Certificate (EPC) rating of C or below. The Heat and Buildings Strategy explained that "the policies outlined in this document could bring up to 70 percent of the English housing stock to EPC band C or above by 2035." So even if all the policies are as effective as we hope, that still leaves us with a third of homes in England alone left languishing in the lowest bands.
So how do we increase the impact of our investment in decarbonisation, and what do we do about that missing 30 percent?
We think the government is right when it points out, right at the start, that the journey to Net Zero buildings starts with better energy performance, and that means ensuring buildings are energy efficient before a mass transition to low-carbon sources of heat. We just wish this was better reflected in the Heat and Buildings Strategy actions.
The widely-accepted 'whole building approach' to energy efficiency means looking at reducing energy demand from all elements of the building, not just its heating. The insulated fabric of the building needs to be improved, windows, lights and appliances improved, controls improved, ventilation improved.
All of the jigsaw pieces needed for a truly fit-for-purpose home energy efficiency programme – such as a robust assessment infrastructure and standards framework – are already available, but the strategy only pulls some of those pieces together.
There was absolutely nothing in the Heat and Buildings Strategy about a national retrofit programme, well researched and called for by groups like the Construction Leadership Council, which could ensure this sort of whole house low carbon makeover.
Instead, for this sort of energy efficient retrofit activity, we will still need to look to the public sector. Indeed, most of the Heat and Building Strategy's £3.9 billion is definitely being targeted at social housing and public buildings, where councils and housing associations will be relied on to do the heavy lifting on energy efficiency for the foreseeable future.
There are several interesting proposals out for consultation or soon to be decided, including ideas to mobilise mortgage lenders in encouraging investment in energy efficient homes, new regulations to force private landlords to do more to help tenants out of fuel poverty, and more use of minimum standards to improve commercial buildings too.
Yesterday we turned our attention to the Chancellor's Autumn Statement, in the hope that some sort of fiscal incentive might be added to the mix to encourage more energy efficiency measures for the millions of homes left untouched by the Heat and Buildings Strategy. We also thought that perhaps there was an outside chance that a replacement for the Green Homes Grant scheme would be announced. Yet, we received very little in terms of energy efficiency or housing news.
We are of course not hanging all our hopes on the Heat and Buildings Strategy. It was good news to see something published, even better to the see that future energy performance policy will continue to the lean on the EPC, but the strategy document clearly doesn't have all the answers we were hoping for. It feels like we still have a disjointed, piecemeal approach to energy efficiency programmes and the way they are funded, and until this system is addressed, there remains a fear that we are going to fall short of our Net Zero targets.
---
The full strategy document can be found here: https://www.gov.uk/government/publications/heat-and-buildings-strategy
Why does my EPC not recommend a Heat Pump: https://lnkd.in/dvXN2BeM