Northern Ireland Energy Strategy 2050- Consultation Released
The Department for the Economy has released a consultation which proposes energy strategy options to decarbonise the Northern Ireland energy sector by 2050. This builds on an earlier call for evidence which was released to the industry back in April 2020.
A new Northern Ireland Energy Strategy is earmarked for a Winter 2021 release, following a review of consultation responses. The consultation itself highlights five key principles which will help the country deliver its vision of net zero and affordable energy: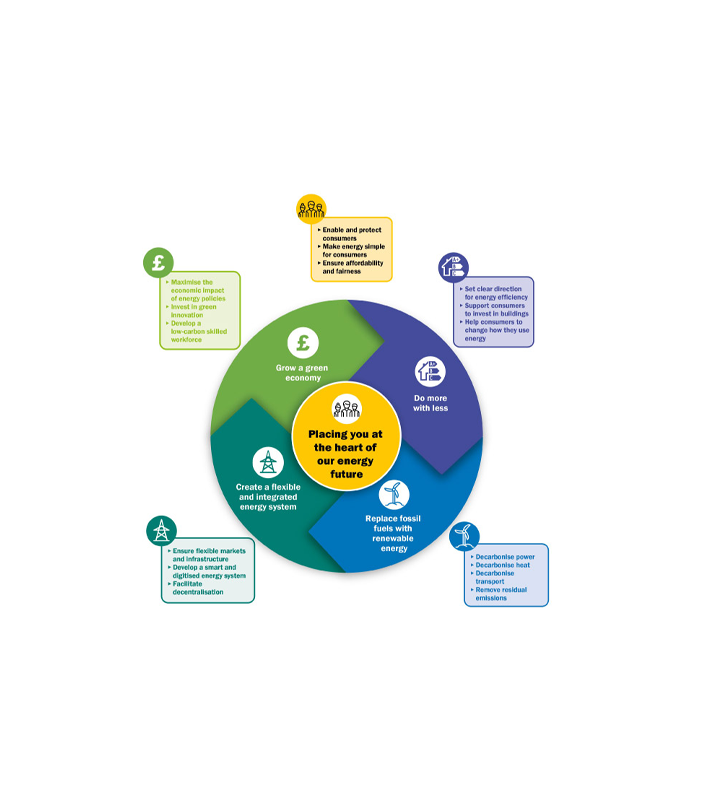 The primary objective that this Energy Strategy will aim to deliver, is for the country to reach net zero carbon emissions by 2050, replacing fossil fuels with cleaner and more efficient technologies. Undertaking activity relating to the five key principles above will ensure this is achieved.
The consultation document is extensive and covers most buildings (existing home, new builds, commercial buildings etc). Elmhurst has reviewed the consultation and has highlightes some of the key points raised within this document which will be of interest to energy and building professionals operating in Northern Ireland.
Introduction of minimum energy efficiency standards
The consultation considers the introduction of minimum energy efficiency standards, which are already well established in England and Wales within the private rented sector. However, these standards are being considered for different types of tenure (e.g private rented; domestic home-owners; social housing; non-domestic building owners). The consultation makes it clear that monitoring and enforcement measures will be needed, alongside additional support tailored to the individual needs of each sector.
Domestic Retrofit
Domestic dwellings in Northern Ireland currently use more energy than anywhere else in the UK or the Republic of Ireland.  The consultation highlights that a peak of 50,000 homes may need to be retrofitted annually (around three times the level at the moment), in order to get them up to standard. The consultation proposes that a new domestic retrofit scheme be introduced to provide support to all domestic consumers, including vulnerable / fuel poor households, owner-occupiers and the private rented sector.
This proposed retrofit scheme would be introduced via a two phased approach:
By spring 2022, the Department for the Economy will put in place a pilot domestic retrofit scheme to provide support to a wide range of domestic consumers.
Following this initial pilot period, the proposed "one stop shop" body will take ownership of the new domestic retrofit scheme.
To ensure the success of such a scheme the consultation acknowledges that new skills will be required, as well as new quality assurance and standards (such as the British Standards Institution's- PAS 2035 framework), and the use of an accreditation body (such as TrustMark) to provide guarantees.
There are currently no considerations to extend the scope of this proposed scheme to non-domestic buildings.
Uplifting Building Regulations
The Department for the Economy is proposing an ambitious five phase approach to uplifting building regulations. This will take into account the Future Homes and Future Buildings standards that have been released in England. There will be an additional consultation which will provide details of this approach later in 2021.
The 5 phase approach outlined in the consultation covers various reviews as well as interim uplifts over a 9 year period. The first phase could come as early as 2021/22 which will seek to increase standards through higher targets and new minimum insulation values that will lead to improved building fabric and an increased use of on-site renewables, with a view to implementation as quickly as possible.
Non-Domestic Energy Efficiency Scheme
The Consultation proposes to introduce a new non-domestic energy efficiency scheme offering tailored support to businesses. The details of this scheme, including consideration of the scope of grant and/or loan funding, will be considered separately.
In the short term, Invest NI will deliver a pilot energy efficiency scheme to provide support to businesses.
Following this initial pilot period, the proposed "one stop shop" body will take ownership of energy efficiency support for non-domestic consumers.
Elmhurst's, Technical and Operations Director is pleased to see this consultation finally come to fruition and encourages the Northern Ireland Executive to not reinvent the wheel: "It's very exciting to see such as comprehensive consultation document released from Northern Ireland. We welcome the spirit of this document, but strongly advice that the Northern Ireland Executive to not reinvent the wheel when it comes to establishing new energy policy and regulation. The skills and knowledge of existing professionals, as well as the current methodologies, should be utilised.  Moreover, existing retrofit and energy assessment frameworks currently adopted by other nations should be considered, i.e. PAS 2035."
Energy and housing professionals can find out more about this consultation at our special online Northern Ireland Forum event where we will be joined by the Department for the Economy. Places are limited, so we would advise anyone who is interested to book early to avoid disappointment. (Only £20 + VAT – Provides 2 Hours CPD)
BOOK PLACE >